Travelling with Pride
As Pride celebrations light up clubs, streets and neighbourhoods around the world this month, we hear from some of the LGBTQ+ community's most well-travelled voices about their love of exploration, their most memorable moments and why seeing the world is integral to a sense of community…
---
01/06/2022
Updated 16/05/2023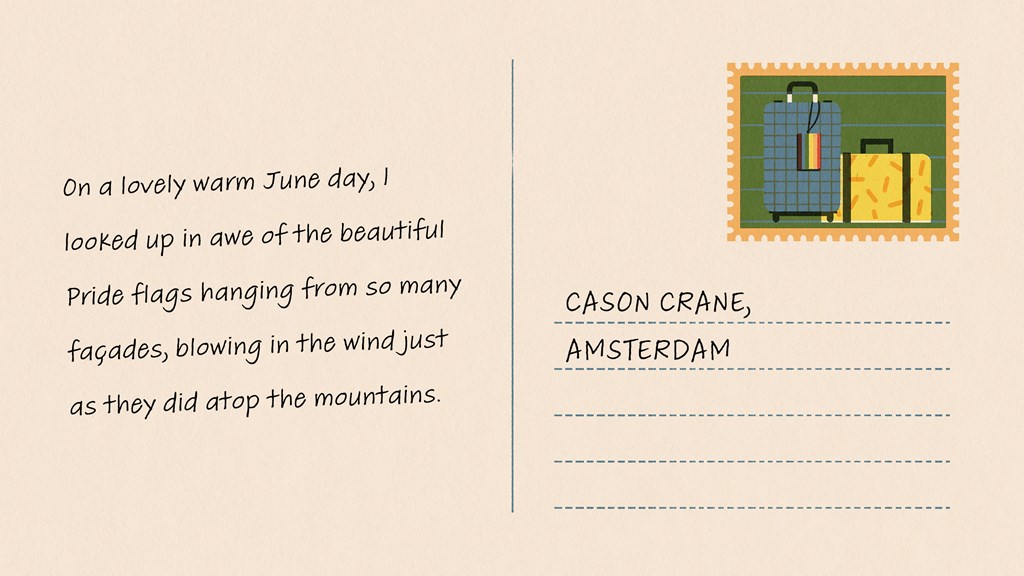 First time in Amsterdam
Ten years ago, I found myself with the opportunity of a lifetime: to climb the Seven Summits – the highest mountain on each continent – and become not only one of the youngest, but also the first openly LGBTQ+ person to do so. This adventure took me around the world to the tallest peaks, Pride flag in hand, and to smaller moments of equal joy and terror!
During my travels, I found myself in Amsterdam, where I experienced my first gay bar. Though I'd come out when I was 14, I had (unsurprisingly) never been to a gay bar in the US. As I walked along the Reguliersdwarsstraat on a lovely warm June day, I looked up in awe of the beautiful Pride flags hanging from so many façades, blowing in the wind just as they did atop the mountains. I don't shy away from a challenge, but that day I circled the block for what seemed like hours, unable to muster the courage to actually walk through any of the doors. Eventually, as I peered in a window, a stranger smiled and waved warmly at me. I walked in, he introduced me to his companions, and they welcomed me. Soon it felt as if I was hanging out with a bunch of old friends.
This formative time represents one of the most special aspects of the LGBTQ+ experience for me: no matter where in the world you are, we look out for those who are a little lost and welcome them in with open arms. Over time, the differences we feel growing up create a bond that transcends language, nationality and background. I'd never want to be anything else.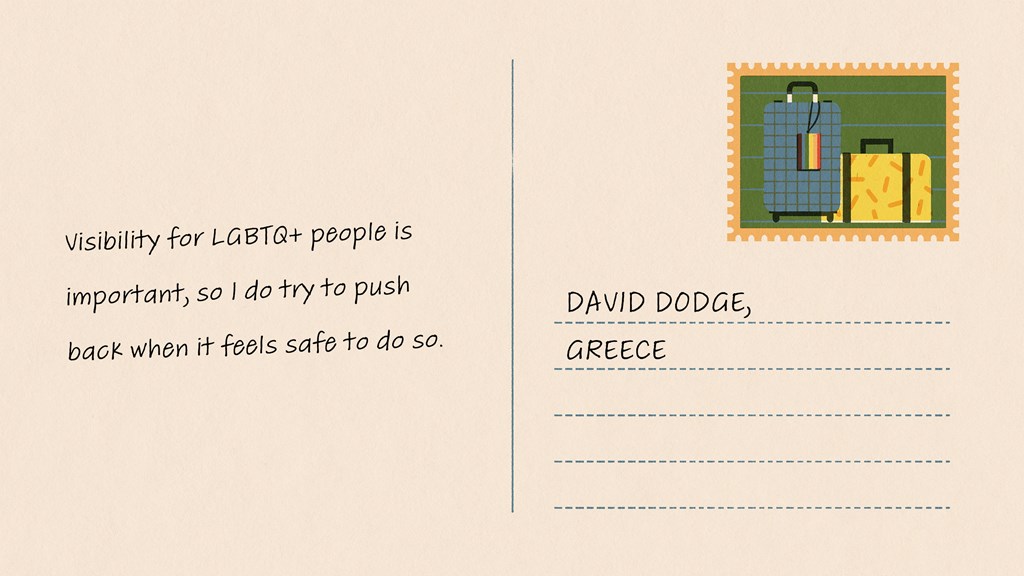 Teachable moments
Several years back, during a trip to Greece, I found myself in a bar speaking with a woman who used the word 'gay' with the force of someone placing a hex on her enemies – her hotel was so "gay" for lacking a hairdryer, for instance, as was the restaurant that had sold her an overdressed feta salad for lunch that day.
Most of the homophobia I encounter while travelling isn't quite this blatant – usually it's just your run-of-the-mill heteronormativity, like a suspicious hotel clerk wondering if my "friend" and I might be more comfortable in a room with two beds. Visibility for LGBTQ+ people is important, so I do try to push back when it feels safe to do so. ("Don't need anything for the wife, thanks – but that flamenco shawl would make a stunning gift for my boyfriend!")
While I enjoy feeling morally superior just as much as the next gay, it can be exhausting to constantly turn moments like these into 'teachable' ones, which is why it's nice when circumstances do the work for you. Back in Greece, as the bar filled around us, my new friend explained that, though she had never met "a gay" in real life, she was actually "totally fine" with them – as long as they didn't cross dress or do anything really queer like that. Of course, at this point, I could have come out to her, or at least let her know she had unwittingly stumbled into a queer bar in Mykonos, a notorious gay party island. But where was the fun in that? She'd find out soon enough, anyway. The drag show (which, it turned out, she thoroughly enjoyed) was just about to begin…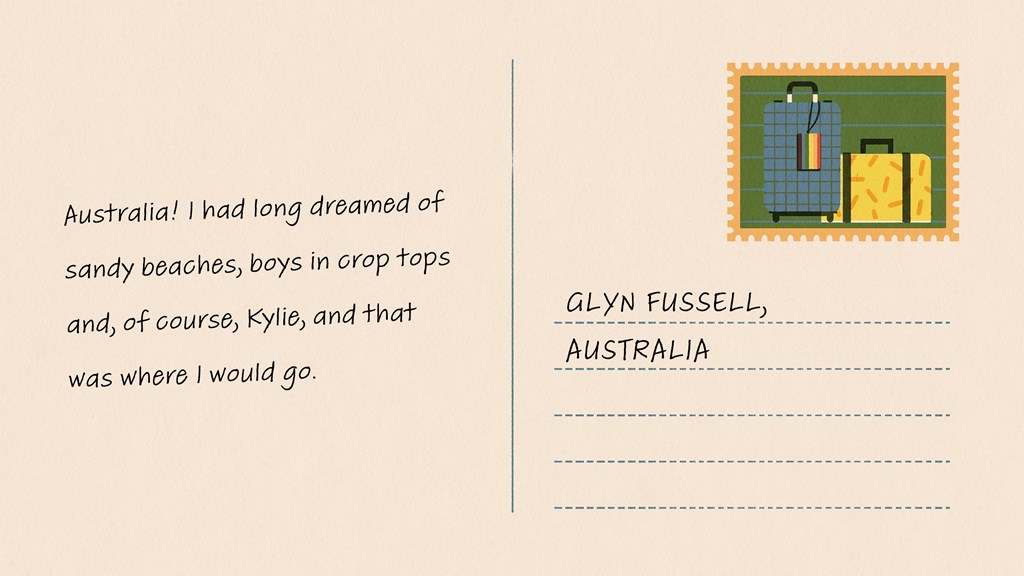 Exploding out in Australia
It was 1988, Facebook didn't exist, the 'selfie' was yet to be a thing and RuPaul was still living in the New York underground. I was a young, closeted boy from Bristol who knew that I needed to run away – to pack a bag and get as far away from the bullies and shame as possible – and there was one country calling my name: Australia! I had long dreamed of sandy beaches, boys in crop tops and, of course, Kylie, and that was where I would go. To this day I can remember the excitement of boarding that flight alone. I watched every film and ate every snack possible, all the time dreaming of what could be. As I touched down on that hot tarmac, I recall a waft of hot eucalyptus sweep over me. My life would never be the same again.
I learned everything about the gay man I am today on that trip. I ran headfirst into the excitement of this new place, making friends who would shape me forever – including Jay, my first love, who taught me to follow my creative urges. My boss, Aunty Donald, taught me how to be the flamboyant eccentric that lurked deep inside, and a sea of colourful creatures of the night taught me about chosen family, community and how to express myself in any way I wanted to. In my time in Australia I didn't just come out, I exploded, and I credit the exploration of that new magical place giving me the courage to explore my own self. Australia: I love you.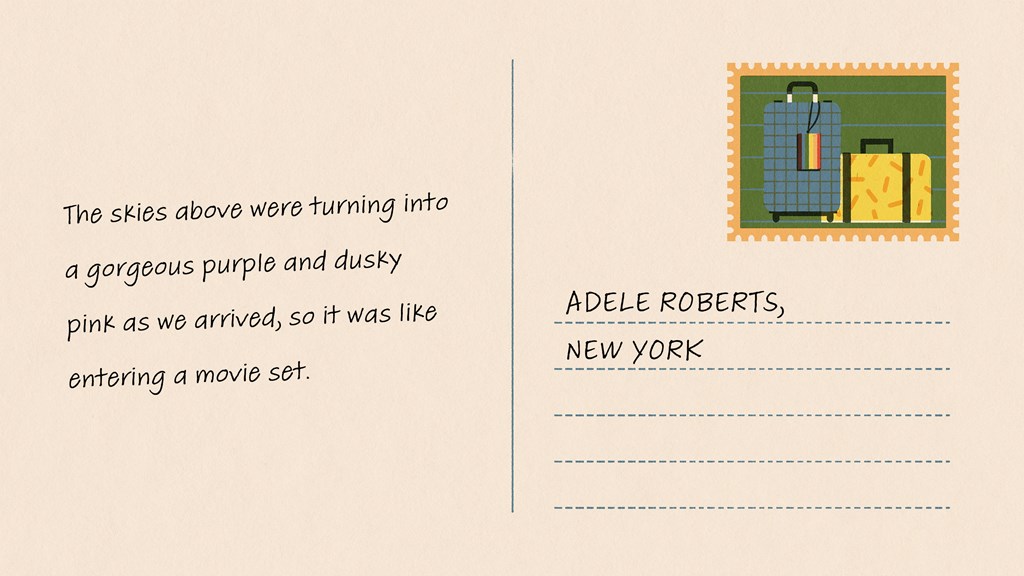 New York, New York
My first ever trip with my girlfriend Kate was to the most wonderful and famous apple: New York! We were only there for four days, but wanted to make sure we made the most of our time. We flew with British Airways from London and had a wonderful journey with the loveliest cabin crew.
We made our way to the city from the airport in an iconic yellow taxi cab. It was a stunning drive into Manhattan. The skies above were turning into a gorgeous purple and dusky pink as we arrived, so it was like entering a movie set. The sight of the skyscrapers was absolutely breathtaking. It didn't feel quite real. We stayed just off Times Square and our first trip out was to buy dollar pizza slices that were bigger than our heads!
During our stay we went to visit the beautiful iron lady, Lady Liberty, and rode the iconic subway to eat at the legendary Kenny & Ziggy's (which we heard made the best sandwiches in New York). We sampled some of the city's most delightful treats, including salt beef bagels and having breakfast outside Tiffany's. We even managed to drink a coffee on the steps of Sex and the City's Carrie's apartment. Before we left, we made sure we visited the legendary Stonewall Inn to thank our brave and inspirational LGBTQ+ brothers and sisters who came before us.
We finished up our New York love affair with a visit from my cousins who live in Brooklyn. They made a special trip to come and see us at our hotel. That moment will stay in our hearts forever.
---